THE LIVING BREAKFAST.
MON–FRI
6:30 – 10:30

SAT, SUN, PUBLIC HOLS.
7:00 – 11:00
DON'T STOP DREAMING
Eyes open, alert – and a brand new day, brimming with fresh possibilities. The best of the region and the season, brought together in a lavish breakfast buffet; a selection of nutritious treats and homemade pastries. Served with freshly brewed J. Hornig coffee and revitalising varieties of tea.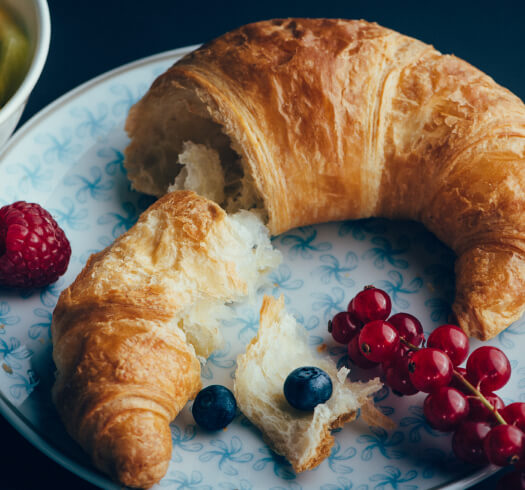 ENDLESS POSSIBILITES
THE CULINARY WORLD OF AIOLA – ALL AROUND THE CITY
THE SALT OF THE EARTH
"Greetings dear neighbours" can be heard whenever local produce and great flavours come together. The potatoes know the cucumbers, and are on first name terms with the onions opposite. And the taste of Styria and quality shine through. The results speak for themselves! See you soon at the Landhauskeller – which is a club by night.
HAUTE CUISINE
Practically in the clouds, at the top of the Schlossberg hill. Higher than the highest level, it is time to experience the deepest relaxation. Far from the everyday, closer to the enjoyment. Local and international dishes are served al fresco on the terrace, with a special view that adds depth to the special experience. At aiola upstairs.
TO THE PERFECT DAY
To fresh green with orange white, to dark violet, to purple and to olive. To a little something for the palate. To creamy green with crispy brown, to pink and gently browned. To the composition. To violet stirred into blue, to yellow into bubbling clear water. To breakfast. To tapas. To cocktails. To pastures new.
WHERE DO DREAMS LIVE?
Where butterflies in the stomach feel right at home, and memories grow. Where bubbles fizz to the surface in a glass of sparkling wine, and neckties are loosened. Where freshly crafted dishes mark the start of the weekend, where glances meet between the riot of colours and where conversation blossoms – a place where dreams can come to life. aiola im Schloss.
OH MY DOG!
It is a food truck in the city. They are the best late night snacks. They are hotdogs made from venison, red cabbage slaw, candied walnuts, Cumberland sauce, Pommery mustard and a smorgasbord of truly out-there options. The after-show party you can eat – where wow is the word of the day. Because in dog we trust!